RESIDENCY FAR AWAY SO CLOSE
RESIDENCY FAR AWAY SO CLOSE 2007 June – 2010 December, initiator and artistic director together with Jessica Segerlund, Farawaysoclose, Malmö.
Residency Far Away So Close (RFASC) was a mobile residency program for international curators. Each selected curator got through the residency program the opportunity to produce an exhibition within the regular program at an art institution in the Skåne region, Sweden. RFASC acted as facilitator and arranged meetings for the curator with artists, galleries and institutions during a two-month residency period.
Participating curators were Sonia Dermiance, Gabrielle Giattino, Dorothea Jendricke and Chris Sharp.
Also produced within the project was the seminar Reality and Visions for Independent Curators, in Malmö in 2009.
Coworkers: Anna Johansson, curator and Anna Norberg, curator.
Graphic design and visual identity: All the Way to Paris http://allthewaytoparis.com/
In collaboration with: Dunkers kulturhus, Malmö Art Museum, Malmö Konsthall and Ystad Art Museum and IASPIS (curator visiting Stockholm)
With the support of: Region Skåne, the Foundation Culture of the Future and the National Arts Council.


LIVINGROOM D LYX
2004 Feb – July 2005, owner and curator, galleri livingroom D lyx, Malmö.
A gallery in Linda Wallenberg's (then Rydberg) living room in central Malmö. The gallery mainly presented installations, sculpture and video art. Artists were among others Kristina Matousch, Outi Sunila, Anna Wessman and artists based in New York: Fia Backstrom, Peter Coffin, Patrick Killoran, Ross Knight, Joyce Kim, Yoko Inoue and others. The final exhibition by David Svensson was presented in Michele Snyder's (Senior Major Gift Officer, Whitney Museum of American Art) home in Greenwich Village, New York.
Graphic design: Thomas Rogerstam (image: example flyer)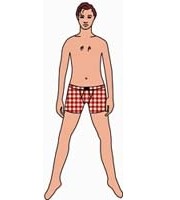 AIR D LYX
2001 July – December, initiator and creative producer, "Air D Lyx – one collaboration, one show, Malmo.
Based on the theme paper doll, a multidisciplinary group developed a site-specific performance. The collective process took place through a series of workshops on location and in a virtual meeting room/avatar world. The show Air D lyx was shown in Sigmahuset and the scene was a big cube construction located in the building's atrium.
"Air D Lyx is a multimedia performance, that experiments with shifting identity – where fantasy and reality, physical and virtual spaces and characters mix together."
Participants: Karin Gullbrantz, 3D graphic and product designer, Karin Holmén, designer, Ninni Holmqvist, author, Linda Ritzén, actor, Peter Rönn-Poulsen, composer and percussion and Åsa Sahlée, flute and vocals.
Graphic design and paper dolls: Otto von Bush
Webmaster: Joel Galvez
Concept and technical support virtual meeting: Elisabet Nilsson
Catalogue text: Fredrik Svensk
et al
The project was produced in collaboration with the restaurant Glasklart and postgraduate (forskarstudion) Kreativa Miljöer, Malmö University. With the support of the Stiftelsen framtidens kultur, Kultur Malmö, Kultur Skåne and Wihlborgs.


SOIL 1.1 – A FEASIBILITY STUDY
The aim was to create an international residency- and exchange programme in a rural environment. During a month an artist lived and work at a farm in Sweden and in USA. The project was a collaboration between Limsta Säteri, in the county of Västmanland och Rural Projects, up-state New York. Invited artists worked with technology and digital techniques in their practice. During the residency the invited artists lived and worked at the farm, with a site-specific project or art work. The work was presented in public at Konstfrämjandet in Stockholm. The artist were introduced to the regional art scene, and in Stockholm and New York City.
Soil 1.1 opens up new sites for art production. The project creates exchange between the art production and farming. The vision was to create a long term collaboration between the local/regional and international art scene and between the art scene and agriculture.
During the Soil 1.1 workshops were hold in both Sweden and USA and a residency period took place in each country. The project was presented in an evaluation, report of the research and practice taking place. Hoping that the feasibility study will lead on to a long term artist in residence.
Initiators and project managers: Johanna Byström Sims, artist och Linda Wallenberg
With support from: Kulturbryggan